---
ECS and 2XL become one European logistics group
The logistics companies ECS European Containers and 2XL have reached an agreement to join forces and form one European logistics group.
---
---
---
---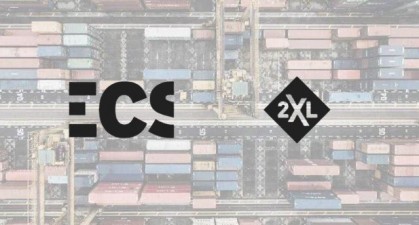 The exclusive talks between the two family-owned companies started one month ago. During the negotiations they came to the agreement that 2XL will be integrated in the ECS European Containers Group. This results in a European Logistics Group which will offer complete services for intermodal transport, warehousing and sustainable logistic solutions for the integrated supply chain. The new group will achieve a turnover of over 400 million euros and employ more than 1.000 people, half of which in the Benelux and the rest spread over a dozen offices in Europe.
ECS European Containers and 2XL, both having Belgian roots, are complementary players in the European Logistics field. ECS focuses on pallet transport by standardized full containers to and from Great Britain, Ireland and the European mainland. 2XL thrives in warehousing and integrated logistics services for companies active in the EU and Great Britain.
Two family-owned companies
2XL is a family-owned company founded in 1999 by Jean Van den Poel: "We have specialized in warehousing and custom-made logistic solutions for major customers. In 2004 we already invested in two large automated stock and distribution centers in Zeebrugge, with a direct rail connection. Thanks to our concept of 'Direct Customer Shipments' where goods are stocked and immediately delivered to our customers' customers, we have achieved a successful growth during the last few years."
ECS European Containers has existed since 1995 as a the family-owned business of the family De Dijcker CEO Pieter Balcaen: " Our mission is CSR-logistics: Creating Sustainable Reliable logistics. This means we want to be a trustworthy partner for our customers whilst focusing on sustainable transport. That is why we have designed standardized 45ft pallet containers which seem to offer endless possibilities for transporting full loads by road, sea and mainly by rail through Europe in a socially responsible way."
Joining forces is the answer to the challenges
The success of both logistics companies immediately proves how complementary they really are. Both parties are also convinced that bringing the two family-owned companies together is the best answer to the challenges the sector is facing today. "While mobility remains difficult, the goal is to create efficient, multimodal solutions with added value for our customers." Pieter Balcaen says.
"In addition our sector shows an increasing concentration and consolidation of transport & logistics. And last but not least there is Brexit: we mainly want to take advantage of these opportunities for our customers, who are currently faced with a lot of insecurities and help them with an optimized supply chain."
Jean Van den Poel is also concerned with what the future has in store for his company: "I am very proud of what I have achieved during the last 18 years together with my employees. Both my sons have chosen a different path. I have studied and considered various options to secure the continued growth and future of 2XL. Throughout the talks with ECS I noticed the complementarity of both companies. I know ECS very well as I helped run the company in the beginning. Thanks to their strong family-owned company vision for the future we were able to reach an agreement rather quickly."
ECS European Containers acquires all of 2XL's shares. Jean Van den Poel will accompany the merger of both companies. "We focus on our employees and our customers. This is a unique opportunity to anchor a strong European group in Zeebrugge. New opportunities will arise for our customers. For our employees this also shows a strong belief in what the future will bring." The new group has a clear view for offering integrated services for intermodal transport, warehousing and sustainable logistic solutions for the integrated supply chain. "We are active in a highly competitive market. But we are convinced that we can make the difference for our customers thanks to combining the strengths of both companies", Pieter Balcaen adds. "We already have the network and efficiency of our transport activities, which we will now expand with 2XL's vast experience in warehousing and integrated logistics services. We are becoming an integrated group focusing on complete supply chain solutions. A nice example of joining forces could be that an ECS train just pulls up in a logistics center of 2XL!"
Both companies of the group will remain active in Zeebrugge and on their other sites. During the coming months the group structure will take shape and the activities will be aligned and optimized where possible. Pieter Balcaen: "We are building a promising future where this logistics group remains anchored in Zeebrugge. Of course we will profit from synergies but this will not be at the expense of employment. Our motto remains: 1+1=3. We see both short and long term growth potential. We are also looking for new colleagues to join us in this new adventure. There are dozens of open positions, for truck drivers as well as warehouse workers and higher skilled workers."
---
---