---
---
Iran and Turkey can grow hand in hand in logistics
Underlining that Turkey and Iran are indispensible partners for the former to reach the Central Asian countries and for the latter to reach the European countries, Fatih Şener, Chair of the Executive Board of International Freight Forwarders Association, says that the application of the first in first out rule at the customs gates, discontinuation of the fuel price difference receipt from the Turkish vehicles, and doubling the daily number of border crossings at the Gürbulak-Bazargan customs gates will increase the number of the carriages.
---
---
---
---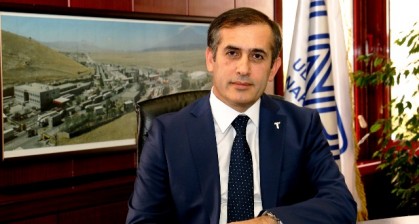 Through which border gates are the shipments on the Turkey-Iran line being conducted? To which countries do the Turkish companies access through Iran?
Three border gates, Gürbulak-Bazargan, Esendere-Sero, and Kapıköy-Razi, are being used between Turkey and Iran. The trade between the two countries is conducted mainly through the Gürbulak border gate and secondly through the Esendere border gate. Turkish carriers reach the Central Asia countries like Turkmenistan, Uzbekistan, Tajikistan, Kazakhstan, Kyrgyzstan, and Afganistan through Iran. Shipments are conducted to the Middle East countries like the United Arab Emirates and Qatar through the Gürbulak border gate although not much.
EXPORT SHIPMENTS FROM TURKEY TO IRAN

2005

2006

2007

2008

2009

2010

2011

2012

2013

2014

2015

2016

15,373

15,929

16,773

13,715

18,594

23,872

38,080

31,035

22,596

33,585

38,669

48,385
48,385 SHIPMENTS WERE CONDUCTED IN 2016
What share does Iran have within the international overland carriers? Which products stand out in the shipments?
Our export shipments to Iran are ongoing toward growth in a stable manner every year. 48,385 shipments were conducted to Iran in 2016 with a 25% increase year-on-year. In the export carriages from Turkey, the Iranian vehicles rank second with a 16% share after Bulgaria. This means that the second country that performs most transport among the foreign vehicles is Iran in the export carriages from Turkey. In 2016, approximately 40,000 vehicles with Iranian plate conducted export carriages from Turkey. In the import carriages to Turkey, Iran is also in the second place after Bulgaria. In 2016, it conducted approximately 44,000 import carriages with 18% proportion among the foreign vehicles. In transit carriages, the vehicles with Iranian plate rank first with 32,000 carriages. In the transit carriages, Bulgaria is in the second place after Iran with 3,250 carriages. In Iran's 32,000 transit carriages, it appears that Iran is the country that uses Turkey as a transit route most intensely. In view of the products standing out in Turkey's export to Iran, particularly unprocessed gold, jewelry, as well as vehicle equipment and parts take the first three places.
What potential does the Turkey-Iran carriages have? How will the trade growing between the two countries be reflected into the logistics sector?
Turkey and Iran are the two countries that have the properties complementing each other when it comes to the supply chain of the region. Through the "Simplified Trade Agreement" entered into between Iran and Turkey, a tax reduction in numerous agriculture products from Iran and in many industrial products dispatched from Turkey has been put into service. In parallel with the impact of the removal of the embargo and this agreement, it is considered that the commerce and transport between the two countries will increase and improve. Integration of Iran with the world increases its importance of Turkey as a transit country for Iran. In this process, in Iran's applications of customs crossings and transportation, it is important to be in line with the international transportation rules and conventions.
What opportunities do the Turkish logistics sector present to the Iranian firms wanting to expand in Europe?
First of all, it is necessary to state that Turkey ranks 34 in the logistics performance index rating and that it is a country with very high logistics possibilities for Iran. Turkey presents the opportunity to the Iranian vehicles to reach Europe with the fuel oil they receive from their own country using the important ports like Mersin, Izmir, and Istanbul. Today, Iran's vehicles are able to reach the ports of Mersin, Istanbul, and Çeşme from Italy and France in three days by making use of the Turkish Ro-Ro services. The vehicles crossing Turkey in one to two days are accessing Iran from the Gürbulak Customs Gate. Hence, the Turkey route is an indispensible one in the access of the Iranian vehicles to Europe.
"FIRST IN FIRST OUT" RULE MUST BE USED
What are the steps that the Turkish and Iranian parties must take? How will the improvements to be performed at the customs gates and the border gates to be newly opened be reflected into the shipments between the two countries?
Turkey is a significant export and import country with its 80-million population. It is substantially important to eliminate the problems encountered at the customs gates in the transport of the Turkish export products to Iran and, similarly, the transport of the cargoes entering Iran through the Iranian ports to Turkey and to Europe through Turkey.
First, as in all the developed world countries and Turkey, the first in first out rule must be used in the Iranian customs as well. The protective policies for its own country gates applied at the border gates must be changed and an environment of competition under equal conditions must be ensured at the Iranian border gates as well.
On the other hand, Iran does not allow the Turkish vehicles conducting bilateral shipment to enter Iran with the diesel fuel purchased from Turkey and applies interventions/oppressions for the purchase of the diesel oil from Iran in line with the unwritten rules. In addition, a per-km fuel oil price difference is received from Turkish vehicles conducting bilateral shipment to Iran and also, the amount of the fuel oil of the Turkish vehicles in their tanks when they return home is checked and tax is collected per liter of fuel available in the tank. Removal of such applications causing unfair competition by increasing the costs of the Turkish vehicles is substantially important in the improvement of the trade between the two countries.
It will be beneficial to state as a result that full capacity operation of the Iranian Bazargan customs gate and the Gürbulak customs gate, its Turkish side, that intensely shoulder the trade between Iran and Turkey must be ensured and the number of exits, which is daily 400-450 vehicles on a single direction, must be doubled because the investments that will meet such numbers have been completed at both border gates.
EXPORT SHIPMENTS OF THE FOREIGN VEHICLES TO IRAN

2010

2011

2012

2013

2014

2015

2016

16,004

17,584

28,339

37,981

33,953

32,515

43,320
IMPORT SHIPMENTS OF THE TURKISH VEHICLES

2012

2013

2014

2015

2016

9,039

11,970

19,781

16,326

10,471
İRAN VE TÜRKİYE KOL KOLA BÜYÜYEBİLİR
Uluslararası Nakliyeciler Derneği İcra Kurulu Başkanı Fatih Şener, Türkiye ve İran'ın bölgede tedarik zinciri konusunda birbirini tamamlayıcı özelliğe sahip iki ülke olduğunu söylüyor. İki ülke arasında imzalanan "Kolaylaştırılmış Ticaret Anlaşması" ile İran'dan gelen birçok tarım ürününde ve Türkiye'den giden birçok sanayi ürününde vergi indiriminin hayata geçirildiğini vurgulayan Şener, şunları aktarıyor: "Ambargonun kalkması ve bu anlaşmanın da etkisiyle iki ülke arasındaki ticaretin ve taşımacılığın paralel olarak artacağı ve gelişeceği değerlendirilmektedir. İran'ın dünya ile entegre olması, Türkiye'nin İran için transit ülke önemini de artırmaktadır. Bu süreçte, İran'ın Gümrük geçişleri ve taşımacılık uygulamalarında uluslararası taşımacılık kurallarına ve konvansiyonlara uygun hale gelmesi önem taşıyor. Diğer yandan Türkiye'nin, lojistik performans endeksi sıralamasında 34'üncü sırada olduğunu ve İran için lojistik imkanları oldukça yüksek olan bir ülke olduğunu belirtmek gerekir. Türkiye, Mersin, İzmir ve İstanbul gibi önemli limanlardan, İran araçlarına kendi ülkelerinden aldıkları yakıt ile Avrupa'ya ulaşma imkânı tanımaktadır. Bugün İran araçları, Türk Ro-Ro hizmetlerinden faydalanarak İtalya'dan ve Fransa'dan 3 gün sonunda Mersin, İstanbul ve Çeşme limanlarına ulaşabilmektedir. Türkiye'yi de 1-2 gün de geçen bu araçlar Gürbulak Gümrük Kapısı'ndan İran'a geçiş yapmaktalar. Dolayısıyla Türkiye güzergahı, İran araçlarının Avrupa'ya ulaşımında vazgeçilmez bir güzergah konumundadır."
Türkiye'nin İran için Avrupa ülkelerine, İran'ın da Türkiye için Orta Asya ülkelerine ulaşmada birbirinde vazgeçemeyecek iki partner olduğunu belirten Şener, bu nedenle gümrük kapılarında ilk gelen-ilk çıkar kuralının uygulanmasının, Türk araçlarından yakıt farkı ücreti alınmamasının ve Gürbulak-Bazargan gümrük kapılarında günlük geçiş sayısının iki katına çıkarılmasının taşıma sayılarını arttıracağını söylüyor.
---
---
---
---