---
59 logistics centers in 22 countries with its global growth targets: Sky is the limit for BGL
Barsan Global Logistics (BGL), that has undersigned numerous breakthroughs and achievements in the last 35 years, has been one of the leading global companies with its investments it made in the continents of Europe, America, and Asia. Having expanded its service network in a vast geography from the US to China, from Europe to Asia, with the 59 logistics centers it has opened in 22 countries, BGL presently provides A to Z integrated logistics services in seven logistics centers in Germany where it made its first international investment.
---
---
---
---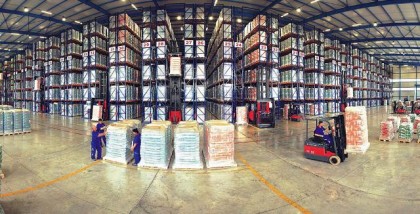 Founded by Kamil Barlın in 1982, Barsan Global Logistics has attained countless achievements for the last 35 years. BGL that started to provide integrated logistics services in 1990 with its land, air, sea, and warehouse investments initiated its şnternational investments in 1995 in line with its target of globalization. Having made its first international investment in Nurnberg, BGL provides integrated logistics solutions for global companies in 59 logistics centers in 22 countries; Turkey, Germany, the Netherlands, France, Belgium, the UK, Spain, Hungary, Italy, Poland, Romania, and Ireland in Europe; the US, Brazil, and Canada in Americas; Hong Kong, China, South Korea, and Kazakhstan in Asia; and Northern Iraq and Iraq in the Middle East. Acting with its motto of "Logistics at the Speed of Thinking," the firm aims to open 20 international centers next year, in line with its vision of globalization.
MANAGES ITS GERMANY OPERATIONS
FROM SEVEN CENTERS
Germany, where the Company has made its first international investment, is one of the countries in which BGL is the most potent. The company has logistics centers in Frankfurt, Remscheid, Stuttgart, Berlin, Munich, and Hannover in addition to Nurnberg. Ümit Çelik, Country Director of Barsan Global Logistics, mentions the services they provide from seven logistics centers this year as follows:
"As BGL, we are providing the services of bonded and unbonded storage, stock management and distribution specific for our customers, shipment on pallet-box-piece basis, labeling, order preparation, and contract logistics. We are carrying out the loading and arrival follow-ups within Frankfurt Airport through the advantages of confidence, speed, and cost. We are performing air shipment, import and export, sea shipment, LCL and FCL transactions, distribution within Germany, and customs clearances for import and export."
FAST ROAD SOLUTIONS
Being one of Turkey's leading logistics firms in land transport with its powerful fleet of vehicles, which consists of double-deck mega trailers with Euro 5 and Euro 6 norms, which can be tracked through satellite tracking system instantaneously, and the oldest of which is one year old, BGL provides fast services for urgent requirements on the Turkey-Europe line, with its express, super express, and swift services. It provides cost and time advantages to its customers for any point of Europe by performing the deliveries in aircraft speed without being stuck with the travel bans at border gates and without getting in TIR queues thanks to the 16 Swift vehicles it has.
THE GERMANY- CHINA LINE
Able to exit to all spots and from all airports of the world as it has an IATA certificate, BGL plays an active part on the Germany-China line while performing direct import shipments between China and the US with its cross trade service. BGL that continues to expand its network of consolidation services with new routes in air transportation also presents express services through different airline alternatives by getting beyond the services with standard transit periods in line with the requirements of its customers.
SERVES IN GLOBAL PORTS
BGL that owns an NVOCC certificate regarding sea transport in the Far East and the US has a large range of sea services. Providing services with its own warehouses in the most important ports and trade provinces of the world, such as Shanghai, Shenzhen, Hong Kong, Yiwu, Seoul, New York, Los Angeles, Miami, Houston, Chicago, Barcelona, Nurnberg, and Coventry, BGL develops the most appropriate solutions according to the requirements of transit times with its Turkish and foreign employees.
COMBINED SOLUTIONS
Presenting flexible solutions to its customers with its project teams that it has deployed in all the logistics centers in the field of combined transport, BGL serves with its competent staff when it comes to project transport in which multimodal services are utilized when necessary.
WIDESPREAD WAREHOUSE NETWORK
BGL that has 20 regional directorates domestically performs its domestic distributions via both its self-owned and leased vehicles. One of the most significant advantages of the integrated logistics solutions that BGL presents is that it has a widespread warehouse network. Possessing warehouse areas in Çerkezköy, Hadımköy, Halkalı, Samandıra, Kurtköy, Gebze, Bursa, Izmir, Manisa, and Denizli, BGL provides optimum-level services for the requirements of its customers from every sector.
With its 35-year experience in the field of customs clearances, BGL is presently one of Turkey's most important firms of customs consultancy.
SOLID IT INFRASTRUCTURE
BGL that has created an IT infrastructure that can be integrated with the ERP programs at its storehouses & distribution centers in many parts of Turkey and the world provides its customers with the opportunity of monitoring and inspecting all the processes and following up the jointly-created real-time performance criteria. BGL ensures the high quality management of the services provided to its customers through the designs custom made for the sector and the customers by the IT team.
---
---