---
OBOR: How will it change the game?

Global trade is shifting and the centuries-old model that saw maritime superpowers located in the western world controlling cargo flows across the high seas is giving way to a more multi-directional and multimodal future.
---
---
---
---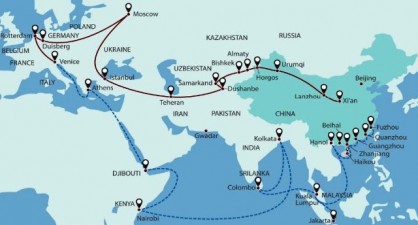 Heavily influencing the new dynamics of world trade will be China, not least through One Belt One Road (OBOR). Also known as the New Silk Road, the multi-trillion dollar initiative aims to reshape intercontinental trade through a new network of maritime and landside links between Asia, Europe and Africa, based on ancient trading routes.
At the recent Belt and Road Summit in Beijing, President Xi Jinping announced that China will lend an extra $124 billion to OBOR, including massive infrastructure development to support long-haul rail freight routes connecting China with Europe. The inauguration of the first-ever direct weekly freight train service between China and the UK earlier this year – a 7,500 mile journey through 7 countries – is the latest example of what could emerge as a fundamental shift in Eurasia supply chain routings.
In the last few years, the China-Europe rail freight has grown in popularity as a cheaper alternative to airfreight and a faster option than ocean. Some 18 separate services are now reported to be in operation, hauling a growing range of ambient and temperature-controlled cargoes, including electronics and perishables.
OBOR and the new dynamics of Eurasia trade connectivity will be high on the agenda at the Container Supply Chain Conference at this year's TOC Europe and we asked some of our speakers for their thoughts on the future:
The Transport Operator viewpoint
Karl Gheysen, Executive Director - Europe Region, KTZ Express:
"The New Silk Road is about 'Interconnectivity'. Trains connect countries, trains connect companies and connect people. I see TOC Europe in a similar way. All major European decision takers in the logistics sphere are present.
As we speak, new destinations and regions continue to be added to this vast network of interconnected places all along the New Silk Road. In 2016 we witnessed a significant build-up of volumes. We continued to develop new destinations in Germany, the Benelux, but also new trains to Paris and Madrid. Most recently, we had already the first return trains from the UK, packed with export goods, back to China."
Hercules Haralambides, Professor of Maritime Economics & Logistics, Erasmus University Rotterdam:
"Looking at Chinese investments in Australia, central and south America, and a continuing interest in the construction of the Nicaraguan Canal, OBOR could be easily extended to a global around the world (ATW) transport system.
The ATW concept assumes more concrete credence today, after President Trump's withdrawal from the Trans-Pacific Partnership (TPP) and, possibly, from NAFTA in the near future. China is already taking the lead in TPP, becoming the unquestionable global force of international trade . The withdrawal of the USA from TPP leaves a vacuum in China's trade policy - and her interests in trading partners - which could be filled by Europe, if the latter is ready to harmonize investment rules and allow greater, and thus reciprocal, Chinese FDI into Europe, through a Bilateral Investment Treaty (BIT). Something like this would also strengthen Europe's position in trade matters with other Asian countries under China's sphere of influence."
OBOR of course also has major geopolitical ramifications and the huge scheme continues to excite a mixed response both inside and outside China. The US and many European nations did not send senior officials to the recent Beijing Summit. India did not attend.
How could these political considerations impact Eurasia trade, transport and infrastructure dynamics in the future? What role will China play versus India? How will the re-emergence of Iran impact the trade map? Where does long-haul Asia-Europe rail fit into the container supply chain mix? And where will the new ocean and inland trade hubs of the future be?
These are some of the issues to be addressed in a special Container Supply Chain session "Changing the Game: New Markets & New Opportunities" on 28 June at TOC Europe. Join Karl Gheysen, Professor Hercules Haralambides, Alireza Jahan, Senior Advisor, Shipping Association of Iran and Andrew Zerk, Director at New Dimensionz to get the latest insights on new markets, including OBOR and what it could mean for you.
---
---