---
---
DP World Yarımca is at the heart of Turkish Industry
With a total area of 46 hectares and 1.3M TEU capacity, DP World Yarımca is among the biggest container terminals in Turkey. The Port currently serves Arkas Line and Turkon Line, and in January 2017 it extended its services to the 2M Consortium, which includes MSC and Maersk Line.
---
---
---
---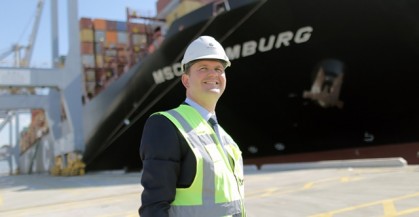 Turkey lies at the intersection of major maritime trade routes between Europe and Asia, due to its location and connectivity, DP World Yarımca is one of the principal import and export gateways to Turkey's industrialised heartland of East Marmara. "The container handling business in the East Marmara region has grown by 11% while the national average was 8% which highlights the strategic importance of the region and its significant contribution to the growth of Turkish economy. There are also growth opportunities for Turkey as containerization rates are still quite low compare to the rest of the world," says Kris Adams, CEO of DP World Yarımca. He also adds, "Turkey can also benefit from the One Belt One Road initiative, an adaptation of the historical Silk Road – marks the beginning of a new geopolitical era."
How much investment has the DP World Yarımca Port been serviced? What is its position between the ports of Turkey in terms of location and capacity?
Located in the Körfez district of Kocaeli province, DP World Yarımca is one of the biggest container terminals in Turkey with a total area of 46 hectares and 1.3M TEU capacity. With over half a billion-dollars in foreign direct investment, it is the first port in East Marmara region which has been purpose-built as a container terminal to be an integral part of Turkey's industry and connect our customers to global markets. DP World Yarımca combines modern operations systems and equipment with a highly skilled workforce, this investment ensures that we deliver a competitive offering in the market, to benefit our customers and the economic development of the region.
Would you like to talk about the investments in the field of technology and the services offered by transferring the terminal information of DP World Port?
DP World Yarımca is a state-of-the-art terminal, equipped with super-post panamax quay cranes and environmentally friendly electrified rubber tyred gantry cranes (e-RTGs) used for yard handling activities. Through our focus on innovating and optimising our assets we have developed solutions in terminal operations with gate automation and asset management systems being used for centralised activity planning and equipment control. Our modern port has two berths with min. 16 m depth and 922 m total length which enable us to efficiently handle two ultra large container vessels with over 16,000 TEU capacity at the same time. As a part of DP World Yarımca's continuous improvement philosophy in creating supply chain efficiencies for our customers, all Super Post Panamax STS cranes are equipped with remote control system, the first of its kind in Turkey.
Adopting a customer-centric approach at DP World Yarımca informs every decision we make. Through maintaining a very close dialogue with our customers to understand their current and future needs. We equip our terminals in a manner to meet these short-term, medium-term and long term needs.
What kind of performance did DP World Yarımca Port, engaged on May 13 of 2016, display in the last period? Would you assess the operational performance you have captured in terms of import-export balance? What countries and sectors have been outstanding in freight traffic?
I would once again like to emphasis our gratitude to President Recep Tayyip Erdoğan, and the Turkish Government for their continuous support for the development of DP World Yarımca Container Terminal. Our commitment is to provide high quality trade enabling services in Turkey and contribute to the economic growth of the region. We posted a strong performance for the first quarter 2017.
We operate in a competitive environment and we continue to respond flexibly to meeting our customers' diverse needs. We are committed to working alongside our customers and partners to continue growing their business here and strengthening the status of DP World Yarımca. Looking at our container handling operations, we see that import and export rates are quite balanced, and we handle freight from Turkey's leading sectors including automotive, white goods, chemicals, textiles and mining.
What are your medium and long term growth and investment goals as DP World Port? Are there new lines on your agenda?
Our ambition is to continue to develop and grow through continuous improvement. Our focus is on innovating and optimising our assets so we can offer our solutions to meet our customers' needs. Our goal is to lead the industry in terms of safety, customer-centric services, quality, sustainability and operational excellence.
We currently employ 315, of which 16% are women including on-site technical positions like ITV, reach stacker and RTG operators, gate supervisors, yard supervisors and shift in charge. We continue to encourage more females into the workplace and into the maritime sector as a whole. When we reach full capacity, DP World Yarımca will create more than 600 permanent jobs and a minimum of additional 800 jobs indirectly and helping to grow the local economy.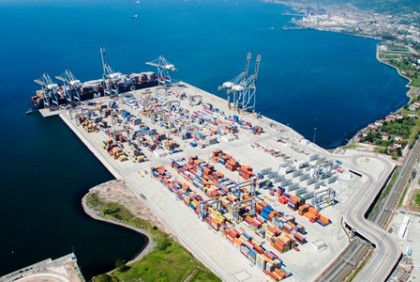 DP WORLD YARIMCA SANAYİNİN KALBİNDE YER ALIYOR
Toplam 46 hektarlık alanı ve 1.3M TEU'luk kapasitesiyle DP World Yarımca, Türkiye'nin en büyük konteyner terminalleri arasında yer alıyor. Arkas Line ve Turkon Line'a hizmet veren liman, Ocak 2017 itibariyle de MSC ve Maersk Hattı'nı içeren 2M Konsorsiyumu'na da hizmet vermeye başladı.
Türkiye, konumu ve bağlantıları itibariyle Avrupa ile Asya arasındaki önemli deniz ticaret yollarının kesiştiği noktada yer alıyor. DP World Yarımca, Türkiye'de sanayinin kalbinin attığı yer olan Doğu Marmara'nın başlıca ithalat ve ihracat kapısından biridir. DP World Yarımca CEO'su Kris Adams şunları söylüyor: "Doğu Marmara Bölgesi'ndeki konteynır elleçleme işi oranında artarak, Türkiye ortalaması olan % 8'in üzerinde gerçekleşti. Bu durum, bölgenin stratejik önemini ve Türk ekonomisinin büyümesine önemli katkısı olduğunu gösteriyor. Türkiye'de konteyner tarifeleri, dünyanın geri kalanına oranla oldukça düşük olduğu için Türkiye için büyüme fırsatı oluşturuyor." Kris Adams; Türkiye'nin ayrıca yeni bir jeoplitik dönem başlatacak olan, tarihi İpek Yolu'ndan uyarlanan One Belt One Road girişiminden de fayda sağlayacağını belirtiyor.
DP World Yarımca Liman İşletmeleri A.Ş.
Mehmet Akif Ersoy Caddesi
---
---
---
---