---
Breakbulk Europe soars to new attendance record
From 29-31 May, Breakbulk Europe brought together more than 9500 project cargo and breakbulk professionals in Bremen, Germany, marking a new attendance record for this specialized global event now in its 13th year.
---
---
---
---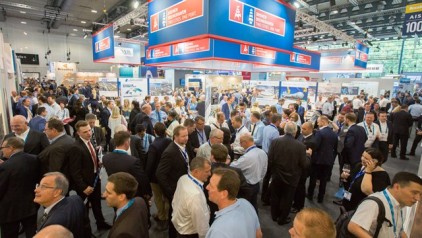 For the first time, Breakbulk Europe was held in Bremen, with the support of Bremen's Ministry of Economic Affairs, Ports and Labour, and bremenports, the host port for the event. Compared with last year, attendance grew 26 percent, led by the Germans who accounted for 37 percent of the crowd."We are proud to host Breakbulk in Germany for the very first time," Robert Howe, Managing Director, bremenports, said. "The event was a tremendous success and we're looking forward to next year when the world gathers again in Bremen."
The entire industrial supply chain was present from 121 countries. There was more of everything—more exhibitors, more visitors, more media and more shippers—filling the three halls at Messe Bremen.
"For us—shippers—it is a must to be here,"Rüdiger Fromm, senior director global project logistics at Siemens said. "You can walk around and meet people every five minutes. There are many more people here this year."
There were nearly twice as many shippers in attendance compared to last year, representing 162 companies from some of the largest international construction firms such as Saipem, Fluor and Tecnicas Reunidas, six of the 7 largest wind turbine manufacturers in the world, and oil, gas and energy giants BP, Shell and Gazprom Neft.
"We actually felt this year's conference was even better than last year's at Antwerp, which is astonishing as Antwerp was very tough to beat," Jo Knutsen, senior global charterer at National Oilwell Varco in Norway said.
While much of the activity at Breakbulk Europe revolved around establishing new business connections and strengthening current ones, the show offered a full conference program designed to provide attendees with critical business intelligence. The main conference program opened with a global economic outlook from Caterpillar's chief economist Nicolas Clerc, who shared encouraging news.
"Trade volume will grow at a faster pace than the world economy," Clerc said. "We are now at an expansion phase that will lead to stronger investment in infrastructure."
Exhibitors have already begun feeling the effects of a global turnaround. Pino Musolino, president of Port of Venice told Breakbulk they are here to celebrate the successes of the past year and to plan for future success. "Year-on-year, we had a 35 percent increase in our project cargo results," Musolino said.
Covering the carrier sector, the program included a discussion with Zeaborn Group's managing partners, Ove Meyer and Jan Többe who announced their merger with U.S.-based Intermarine earlier in the week. And indeed there's more to come for this sector. "There will be more consolidation, but it will not be the bigger ones swallowing the smaller ones," Meyer said. "It will be mergers more on an eye-to-eye basis."
Technology-based trends were a key subject during the conference, including a super-session on blockchain and its impact across the industry.
"We believe blockchain will be very good for the industry by fostering transparency across the supply chain," panel moderator Cyril Varghese, global logistics director for engineering and construction company Fluor. "The market will demand a single source of truth and that has to come from blockchain."
Breakbulk is committed to not only supporting the industry's current professionals, but encouraging a new generation of leaders. Education Day was held on the first full day of the event, which included an introduction to the industry led by executives from ABB, Kuehne+Nagel, Caterpillar and Bertling, followed by guided tours of the exhibition floor. The event was endorsed by the Bremen Chamber of Commerce.
Breakbulk Europe will be held in 2019 at the same location from 21-23 May and will expand its footprint to include Hall 7. At the close of this year's event, 90 percent of exhibitors had rebooked for next year.
---
---