---
CEVA 2015 full year results demonstrate strength of operating model
CEVA Holdings LLC ("CEVA" or the "Company"), one of the world's leading non‐asset based supply chain management companies, today reported results for the full year 2015 ended 31 December 2015.
---
---
---
---
Key Financials ($ millions)

Full Year

FY 2015

FY 2014

% Change

% Change

Constant FX

Revenue(a)

6,959

7,757

(10.3)%

(0.5)%

Adjusted EBITDA (b)

272

239

13.8%

22.2%

Quarter

Q4 2015

Q4 2014

% Change

% Change

Constant FX

Revenue(a)

1,721

1,989

(13.5)%

(5.1)%

Adjusted EBITDA(a) (b)

66

74

(10.8)%

(1.4)%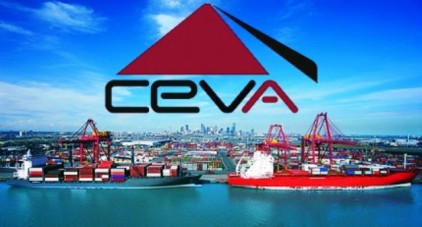 "CEVA's 2015 year-end performance is the latest in a series of strong quarters for our company. We see that the execution of our new strategy, launched in 2015, is delivering tangible results despite the volatile year-end economic environment and short peak season. Of our 17 geographical clusters, 15 performed at or above expectations in 2015, which shows that our operating model is working. We also see a number of opportunities to further improve our EBITDA in 2016 driven by continued investments in our field sales teams and operations," said Xavier Urbain, CEO of CEVA.
"Ongoing process and product improvements in all business lines continues to pay off and our emphasis on quality trade lanes allowed us to gain share on key routes during the course of the year. Our organizational transformation continues and we've recently renewed our focus on enhancing opportunities within our Ground transportation organization. CEVA's assertive investment in field sales teams has led to successfully capturing new customers in 2015, particularly with small to medium enterprises."
Freight Management
Freight Management adjusted EBITDA improved to $70 million, year-on-year, in constant currency, an increase of 241%. Q4 EBITDA performance was $15 million, up 20% year-on-year in constant currency. Full year air freight volumes increased marginally and despite a short peak season, Asia exports performed relatively well in Q4. Air Freight outperformed the market in Q4 due to a number of new business wins on selected tradelanes from Europe to China. Ocean volumes underperformed against market, however, we continue our focus on attractive tradelanes. A strategic procurement approach in a low-rate environment contributed to margin improvements in both Air Freight and Ocean Freight.
The Freight Management new business pipeline continued to grow in Q4, 12% above prior year. The business line also continues to focus on system enhancements, process improvements and cost controls. A renewed emphasis on our Ground transportation activities and an initial focus on strengthening our operations in the US are expected to bring additional benefits in the future.
Contract Logistics
In the face of volatile market conditions, Contract Logistics full year revenues increased 1.5% year-on-year when adjusted for disposals in constant currency, resulting in stable EBITDA performance of $202 million, like-for-like. Q4 revenues came in slightly lower, driven by reduced volumes in certain geographical regions as well as economic volatility. However, Consumer & Retail and Healthcare customer volumes have shown continued growth in Q4 2015. This negatively impacted Q4 EBITDA performance of $51 million, down 6.8% like-for-like. The business line continues its focus on driving service level improvements and productivity through best practices and benchmarking.
The Contract Logistics pipeline continued its upward trend closing 14% higher, year-on-year, with significant opportunities in Automotive, Healthcare and Consumer & Retail. However, significant long-term wins and strong renewals position us well for 2016 and beyond. Although we anticipate a challenging economic environment over the next 12-24 months we expect positive developments in our 4PL business in 2016.
Business Development
CEVA's overall business pipeline remains strong. Our full year hit rate was 21% in Contract Logistics and 28% in Freight Management, both consistent with the prior year. 2015 also saw extraordinary growth in our field sales teams with a 45% increase in FTE over the prior year.
In light of market headwinds, CEVA's strong performance in 2015 is the result of across-the-board improvements and we have identified opportunities to ensure our business remains resilient. This is a direct result of our strong operating model, the seasoned management team put in place one year ago as well as our dedicated workforce around the globe.
---
---